Lively. Stylish. Zesty.
Pink Lemon Wear's mission is to provide women of all walks of life with stylish and practical clothing at prices that are within reach.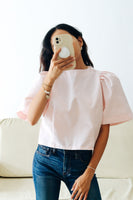 Hazel Puff Sleeve Top
Hazel Puff Sleeve tops -- made from high quality, imported linen fabric , sewn locally in Manila.  
They can be paired with any bottom - jeans, your favorite white pants, skirt or shorts. It's very classic and stylish at the same time and best of all, it can be worn all year round.
Available in 4 colors: Baby Pink, Off White, Olive Green and Black
Free size (best fits xs to medium frames)
Hazel Puff Sleeve Top